January was a time for some good lessons winter climbing in the Cascades.
The biggest was, don't try to plan a short trip in the Cascades. Guidebooks and websites stress this: weather windows are hard to predict, so buy your flights with caution. I even planned for this, asking to take longer weekends at work during the month rather than a solid chunk in the middle. We had plans to get two-person rope team skills dialed in for glacier travel but never made it onto a glacier — the constant deluge of wet snow kept the avalanche danger consistently high  the entire month. The time we did make an attempt on a bigger objective we ended up skiing seven miles on Cascade River road just to start the approach to the climb. After a miserable wallow through deep, unconsolidated snow that night we bivvyed well below our planned elevation. The next morning we woke up to new snow, realized there was no way were would make the return date on our backcountry permit, and went back to sleep until noon. The Alpine Flop was born.
But it wasn't all gloom and doom — the stoke stayed alive, and we spent my days off backcountry skiing and cragging in the snow at Tieton and Smith Rock.
We started up Pinnacle Peak: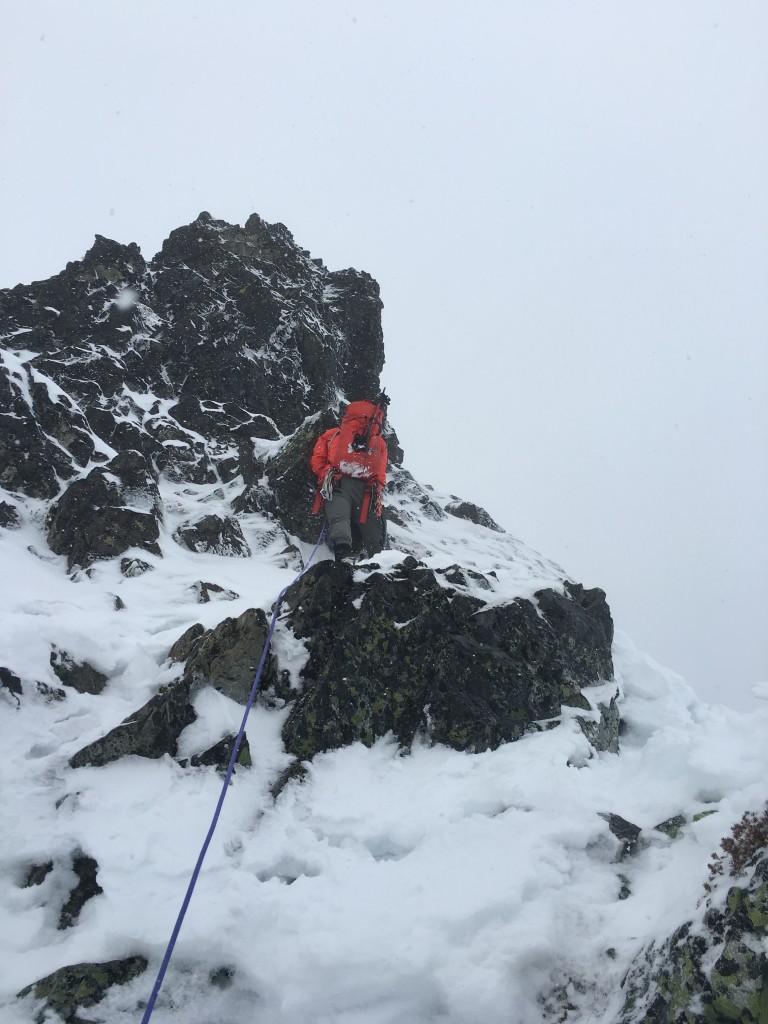 With Avy conditions lower on the East side of the Cascades, we made a couple of trips out to Tieton. Our multipitch aspirations on Goose Egg rock were foiled by gushing water on the face:
But we made the best of it and ticked some classic basalt cracks in the snow, like Inca Roads and Jam Exam:
We caught a couple of spectacular days at Smith and continued the Alpine Flop tradition, getting stormed out the last day of each trip.
We knocked out some classic trad moderates like Moonshine Dihedral and Karate Crack and finally made the crawl into the Monkey's Mouth on West Face Variation Direct:
A solid start to a long trip.  Next up is a short stop at the house in Myrtle Creek and then we'll be off to Ouray, CO to get strong on waterfall ice for the next month. See ya around!